The goal of Fassi Gru is to provide all its products with added value in their various aspects: from mechanical solutions to hydraulic functions up to electronic systems, without forgetting after-sales services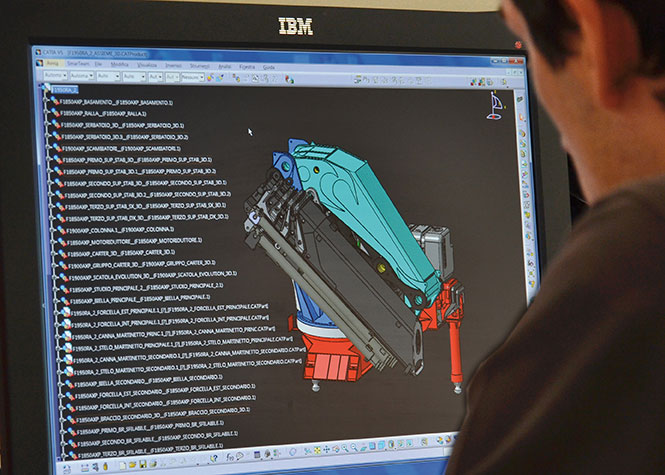 Research and Development are crucial elements of Fassi's world, the foundations of the construction philosophy that guides the company towards increasingly demanding challenges, in order to develop solutions capable of anticipating the needs of the market. In fact, the company firmly believes that innovating means having a view of the future without neglecting today's reality, in other words staying true to the specific peculiarities of the product.
This is exemplified by the instruments made available to the design department: the calculation programmes developed in cooperation with the Milan's Polytechnic Institute, the highly advanced design and simulation CAD systems such as "Catia", also used by leading manufacturers in the automotive and aerospace sectors, in addition to Fassi Gru, the only company in the articulated cranes sector. A system thanks to which it is possible to work in a virtual reality, with an overall view of all phases and all aspects of the design, verticalizing and integrating all processes into a single tool: concept, development, simulation and structural analysis.
Electronics and the use of high and ultra-high strength steels (UHSS) are also crucial when it comes to making the difference, as they are able to ensure extremely high performances. Hence, relying on the concept that a company needs to offer more to its customers, combining safety and performances: in other words, combining the highest performances without taking any risks, thus enhancing the overall safety of the equipment.
Another important aspect is the man-machine interface. Fassi Gru was one of the first companies to develop remote control systems using a radio control. This has resulted in the operator being able to work in safer positions, with improved visibility and, in some cases, limiting the number of workers needed to carry out the job. Innovative communication systems were created and radio transmission reliability concepts were established; moreover, the crane control instruments were made "user-friendly", making it possible for the operator to manage the crane in real time through the display.
The high standards followed during the construction phase are a direct result of the company's focus on the design and development phase of the prototypes. Without forgetting the capillary and professional after-sales network, operating in 60 countries throughout the world and always ready to step in when the customer needs technical support.