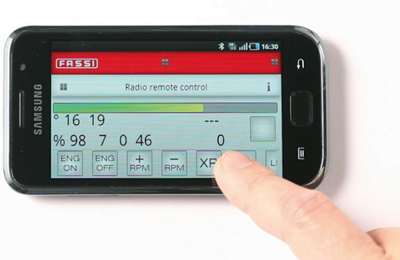 Fassi Gru is the first company in the lifting sector tocombine the intelligent use of boom cranes with latest-generation smartphones.

Fassi SmartApp is an integrated system of data reading and collection in real time that can carry out remote diagnostics on crane operation and is compatible with the Android system. Using the Fassi SmartApp makes it possible to optimize crane capabilities through perfect knowledge of the utilization characteristics and maintenance times.
The Radio Remote Control section displays the reaction thresholds of the remote control, with the possibility to change its sensitivity: the main booms can be set by adjusting the response of the control levers: simply change the working curves of the individual elements. By doing so, you can adapt the sensitivity of controls to the operator's individual needs in remote.
The Black Box key is not just a log of the operations carried out, as it also serves as a communication tool with the Fassi assistance network.
Analyzing and comparing the utilization characteristics of the crane helps to better understand its use and allows the scheduling and management of maintenance costs with better performances for a longer time.
Moreover, should the crane suddenly stop working, the Geo-Locator function finds the nearest service centre and, through the Black Box, the remote diagnostics procedure is activated, storing data and any alarms in a file that can be sent to Fassi's service department through an e-mail from the smartphone, thus providing correct and accurate information about the detected malfunctions in order to arrange for fast repairs.
Thanks to the user-friendly menu, it is easy to access the various sections, switching with just a few touches from the collection of data, also expressed in graphs for quick reference, to the controls adjustment section. Moreover, you can also activate certain crane functions from the smartphone, such as the XP, or of the vehicle, such as turning the engine on and off and changing its speed.
This system originates from the Human Machine Interface (HMI) philosophy, to confirm the constant push towards innovation by Fassi's R&D Department, with the involvement of Milan's Polytechnic Institute.