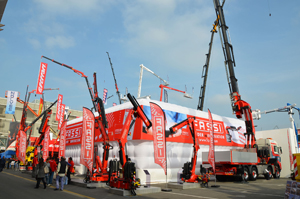 A futuristic structure for the reception, offices and multimedia stations at the Fassi stand. On display, a Man truck fitted with a Fassi F1950 crane.

A surface area of 400 square meters, 225 of which are taken up by the original and eye-catching structure in PVC with weft in inflatable nylon thread that aims to become the distinguishing mark of Fassi Gru at all tradeshows in future years. This is an original nylon material supported by a light alloy structure that will house the reception and the offices, as well as the multimedia stations that illustrate the production and operation of Fassi cranes.
Once again, a cutting-edge choice that underscores the company's desire to invest and travel down new paths, a desire that has always distinguished the doings of Fassi Gru.

In addition to the two new products, the F110B crane and the SmartApp, the visitors' attention at the Fassi stand will certainly be captured by the Man truck fitted with a Fassi F1950 crane, the largest machine to be produced by the Bergamo-based company. This truck is owned by the Austrian company Spiegl, which chose this set-up to further expand the lifting capacities of its fleet; in fact, the combination Man-Fassi F1950RA.2.28 can reach a horizontal reach of 45 m, a loading moment up to 138 ton/m for a self-weight of about 15 tons. The operator can thus lift weights of up to 6 tons but, by suitably positioning the lifting hook, the lifting capacity can reach 40 tons.

Five additional models will complete the display at the stand: F38A Active (lifting capacity 3.47 t/m and hydraulic reach 7.55 m), F55A Active (lifting capacity 4.99 t/m and hydraulic reach 9.25 m), F65AC Active (lifting capacity 6.01 t/m and hydraulic reach 8.20 m), F80AC Active (lifting capacity 8.26 t/m and hydraulic reach 9.40 m) and F455RA e-dynamic (lifting capacity 43.43 t/m and hydraulic reach 20.80 m).

Visitors will certainly be curious about the presentation of the first prototypes on a 1:50 scale of the Fassi F1100RA, which is offered to collectors and aficionados in combination with vehicles of all brands starting from 2013, even with different models and fittings of the same brand.