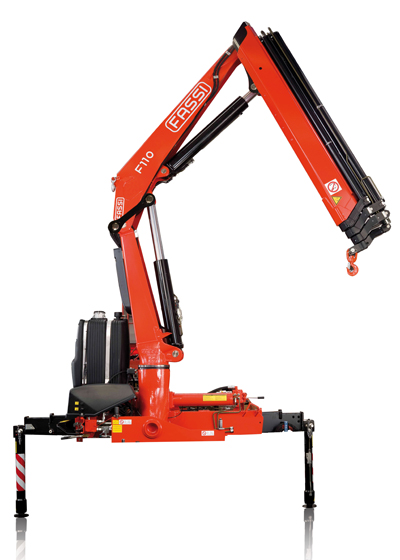 A crane that literally revolutionizes Fassi's offer in the 10 ton/m range, allowing customers to configure and choose their crane depending on the job to be done.

A significant expansion in the 10 t/m segment which, in the Fassi Gru offer, is considered as medium segment in the small range in terms of lifting capacity, yet very important in terms of sales volumes.
The main novelty is the adoption of a lifting link at the articulation between the column and the main jib (F110B.1) and, if necessary, a second lifting link (F110B.2) between the main jib and the secondary jib. The offer will also include a model with no lifting links, identified by the acronym F110B.0, which will replace the well-known and highly appreciated F110A.0.
The project underscores the company's intention to place this crane on the market with three types of technological solutions, in order to meet all operating needs in the best way possible.

In fact, customers will be able to configure the crane based on their specific needs and for all possible functions (excluding continuous rotation). Moreover, the introduction of the single or double lifting link allows customers to take advantage of the additional and new capabilities offered by this model.





The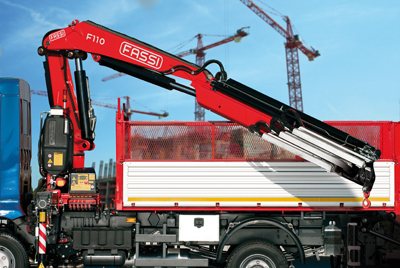 new F110B features improved performances compared to the previous F110A.0, specifically:
• weight reduced by 20%;
• hydraulic reach increased by 15% with the development of the .25 version;
• maximum load increased by 65% at the mobile hook (in the version with two lifting links);
• combination of the hydraulic extension on the .24 version too.
All this translates into a series of advantages for the operator, who can count on improved performances both in terms of dynamic lifting and of static capacities on the lifting curves. It is also possible to have rated configurations in horizontal with no angle of the main jib and the maintenance of rated loads even with the "Prolink" activated.
The new F110B.1 and F110B.2 cranes are available in five versions for both ranges, identified by the numbers .21 to .25, which correspond to the number of hydraulic booms (from one to five); the reach ranges from the 5.7 metres of the .21 version to the 14.1 metres of the .25 version, while the lifting capacity varies from 10 t/m of the .21 version to 8.9 t/m of the .25 version.