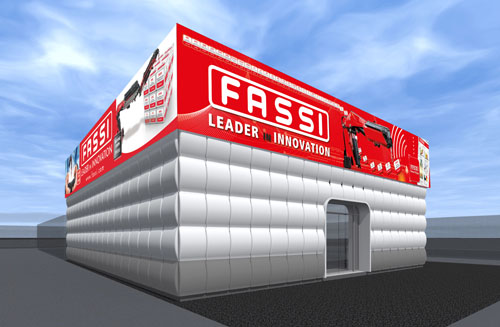 Fassi Gru spa will be at the 48th Edition of the SAIE with a futuristic stand and two important new products: the Fassi F110B crane and the Fassi SmartApp System for remote assistance


The presence of Fassi Gru, world leader in the lifting sector, at the SAIE, the International Building Exhibition scheduled to open its doors at the Bologna Fairgrounds from October 18th until the 21st, is a long-standing tradition. Now in its 48th edition, SAIE has always been a privileged venue for the construction world, a chance to present the most innovative solutions to the professionals working in this sector, which this year focuses on a topic of primary importance: building requalification in the urban and residential areas and environmental and energy sustainability. A strategic topic for the entire "Italy System" and for the economic revival of the building sector, well summarized in the presentation slogan of the 2012 edition: "Let's rebuild Italy".


The Fassi Gru stand, located in outdoor area 44, stands D22 and E11, will feature an original and innovative structure in PVC with weft in inflatable nylon thread that, in addition to its unquestionable and attractive visual appearance, underscores the company's desire to travel down new paths, with the innovation of industrial products but also from an image standpoint. A clear wish not only to be there, but to play a starring role too.

The stand will display two absolutely new products: the Fassi F110B crane, which introduces the system with one or two lifting links (identified by the acronyms F110B.1 and F110B.2, respectively) to further improve performances and efficiency. Fassi SmartApp System, on the other hand, is the first remote assistance service from smartphone designed for the hoisting sector; an integrated system of data reading and collection in real time capable of carrying out remote diagnostics on crane operation.

The following models will also be on display at the stand: the F38A active, the F55A active, F65AC active, the F80AC active and the F455RA e-dynamic cranes, to represent Fassi's production range, which includes over 60 models. At the centre of attention there will also be the imposing MAN truck, made by the Austrian company "Spiegl Transport", fitted with a Fassi F1950RA.2.28 he-dynamic crane, with horizontal reach of more than 30 metres and a maximum load moment of 138 ton/m.