Details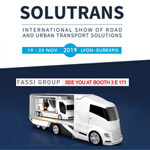 Fassi Gru will present cranes for road and urban transport at the SOLUTRANS 2019 trade fair in Lyon
Lyon (France)
- The largest European exhibition for road and urban transport, SOLUTRANS 2019, will take place at the Eurexpo convention centre in Chassieu, southeast of Lyon, from 19th to 23rd November. The fair, now celebrating its 15th edition, will take digital and electrical innovation as its theme this year and organisers expect to the event to be equally successful as the previous year, when 48,240 visitors and 610 exhibitors attended.
Details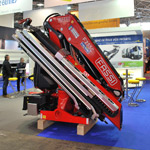 Fassi exhibits at the Solutrans 2017 trade fair in Lyon with the Fassi France dealer Forez Bennes Hydro
Lyon (France)
- The company Forez Bennes Hydro, a Fassi France dealer, attended the Solutrans 2017 trade fair in Lyon from 21st - 25th November, at a stand in which Fassi also exhibited. Forez Bennes is located in the Saint-Étienne area and specialises in equipment specifically for the handling of near-surface, semi-submerged rigid, flexible and aerial containers for waste management, as well as the provision of Fassi loader cranes.