Details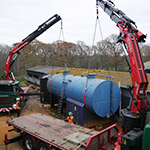 Fassi UK customer R.S. French Ltd undertakes a tandem lift using the F820RA.2.26 xhe-dynamic and F800RA.2.26 he-dynamic loader cranes
Tenterden (UK)
– On 6th December at a dairy farm in the village of Tenterden in Kent, the Fassi UK customer R.S. French Ltd conducted the tandem lift and transport of an exceptionally large 12-tonne water tank and its frame using two Fassi loader cranes, an F820RA.2.26 xhe-dynamic and an F800RA.2.26 he-dynamic, both mounted on Scania trucks.
Details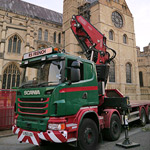 Fassi and R.S. French at work on a building site near Canterbury Cathedral
Canterbury (England) - 28th September
. A vehicle from the company R.S. French fitted with a Fassi F800RA crane was used today on a building site behind Canterbury Cathedral, the first cathedral in English history. Canterbury Cathedral is the first important example of English Gothic architecture. The original building dates as far back as the 7th century AD, and was destroyed and rebuilt various times. In 1147 the cathedral was rebuilt.