Details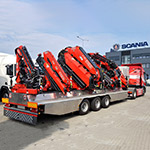 Fassi distributor EverLift Slovakia, s.r.o., achieves success on its 2018 roadshow
(Slovakia)
– During the second half of May, Fassi's Slovakian distributor, the company EverLift Slovakia, s.r.o., toured the country with its annual roadshow. Over the course of two weeks, the EverLift team visited 11 different dealerships across Slovakia and found each event to be very successful and interesting, especially for customers, many of them stopping to observe the Micro, light, and heavy-duty cranes on display.
Details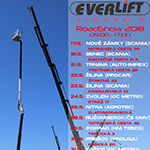 Fassi's Slovkian distributor goes on the road to exhibit Fassi loader cranes throughout the country on the EverLift Slovakia Roadshow 2018
(Slovakia)
– From 17th to 31st May, Fassi's Slovkian distributor, the company EverLift Slovakia, s.r.o., will be embarking on its annual EverLift Slovakia Roadshow. Over 15 days, staff will travel to 11 different dealerships across the country to show the latest cranes, innovations and technologies to existing and potential customers. This year the company will be exhibiting the following Fassi loader cranes: the Micro M40A.1.14, the F65B.1.24, the F110B.0.24, the F545RA.2.26 with L426 jib and the F1150RA.2.26.