Details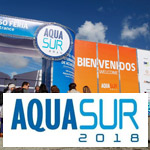 Fassi's Chilean distributor, Imerchile S.A., will exhibit Fassi hydraulic cranes at AquaSur 2018, the largest aquaculture fair in the southern hemisphere
Puerto Montt (Chile)
- From 17th- 20th October, Fassi's Chilean distributor, Imerchile S.A., will exhibit Fassi cranes and products at stand no. A229 in the 10th edition of AquaSur, the largest international aquaculture fair in the southern hemisphere.
Details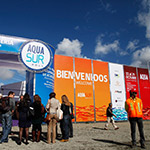 The Fassi dealer in Chile is participating in the AquaSur trade fair in Puerto Montt
Puerto Montt (Chile) - 20th October.
Fassi Chile is taking part in the AquaSur trade fair from 19 to 22 October at Calle de Servicio 200 in the suburbs to the north of the city of Puerto Montt (approximately 1000 km south of Santiago). It is a fair dedicated principally to the world of aquaculture, but also addresses the entire range of industries in the area.
Courtesy of Fassi Chile S.A. (J. Neriz)