Details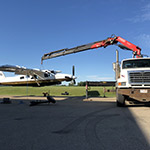 The Fassi Customer Encore Trucking & Transport Ltd. lifts an aeroplane at Cooking Lake Airport with a Fassi F455RA.2.28 e-dynamic knuckleboom crane
Cooking Lake (Canada)
– Towards the end of June, the Fassi customer Encore Trucking & Transport Ltd. was commissioned to assist with maintenance work to an aeroplane at the Cooking Lake Airport, with the help of the company's Fassi F455RA.2.28 e-dynamic knuckleboom crane. The heavy-duty crane, mounted on a Sterling LT 9500 Tri Drive truck, lifted the plane so that floats could be installed underneath.
Details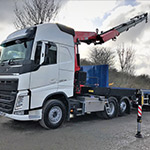 Fassi UK dealer The Crane Centre Ltd installs two Fassi F455RA.2.25 e-dynamic hydraulic cranes for a specialist access company
Aldridge (United Kingdom)
- At the beginning of February, the company Adastra Access Ltd took delivery of two new Fassi F455RA.2.25 e-dynamic loader cranes mounted on Volvo FH tractor units, supplied and fitted by the Fassi UK main dealer, The Crane Centre Ltd. Based in the town of Aldridge in the West Midlands, Adastra Access specialises in mast climbing work platforms, cradles and specialist access services.