Details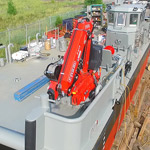 A Fassi F275A.2.26 e-dynamic loader crane mounted on a workboat in Montreal
Montreal (Canada)
– Fassi's Canadian distributor, Strongco Corporation, has recently supplied an F275A.2.26 e-dynamic crane to the shipbuilding company Navamar Inc., based in Montreal. The crane was mounted onto a 17 m long Multi Cat steel workboat with bridge space for a semi-trailer and large cargo area under the bridge
(Courtesy of Strongco Corporation).
Details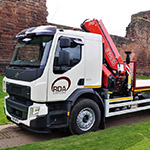 Fassi F275A.2.23 e-dynamic loader cranes at Bothwell Castle in Scotland
Bothwell (UK)
– Last week, two Fassi cranes belonging to the company RDA Scaffolding Ltd were photographed at historical Bothwell Castle in the region of South Lanarkshire, Scotland. RDA Scaffolding provides contract scaffolding and roofing services to a wide customer base throughout West Central Scotland.
Details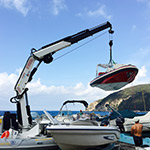 The Fassi cranes efficiently demonstrate their performance in marinas
Moneglia (Liguria)
- The Fassi F275AFM.2.23 crane shown here was photographed while handling a small boat in the marina of Moneglia. Moneglia is located on the Riviera di Levante, east of Genoa, and is the furthest east of the municipalities in the metropolitan territory, 30 km from La Spezia.