Details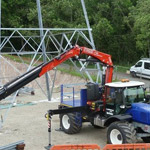 The Scottish company NorPower Ltd uses their Fassi F195A.2.24 dynamic loader crane for the assembly of overhead powerlines
Muir of Ord (UK)
– The company NorPower Ltd uses its Fassi F195A.2.24 dynamic crane for a range of different applications, one of which is the assembly of overhead powerlines and related equipment and structures. NorPower is based in the village of Muir of Ord in the Scottish Highlands, approximately 20 km west of Inverness.
Details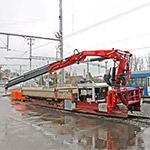 A Swiss public transport company achieves results with its F195A.2.23 e-dynamic loader crane
Bern (Switzerland)
– Fassi cranes have a wide variety of applications and one specific sector in which the use of Fassi hydraulic cranes has significantly improved operational dynamics is the construction and maintenance of rail infrastructure. A prime example is this F195A.2.23 e-dynamic crane mounted on a railway chassis, which Fassi's Swiss distributor, Fassi Schweiz AG, has recently supplied to the company Regionalverkehr Bern-Solothurn (RBS).