Details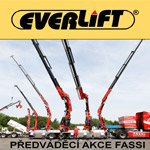 Fassi Cranes on the road in the Czech Republic with a demo-tour organised by EverLift spol. s r.o
Nýřany (Czech Republic) -
From late June to early July, Fassi's Czech distributor, EverLift spol. s r.o, will be commencing on a demo-tour to demonstrate the power and versatility of Fassi truck cranes, starting at the IVECO Truck Centrum dealership in Nýřany and ending the week at EverLift's own premises in Hněvotín in the Olomouc region.
Details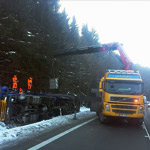 Mohelnice (Czech Republic)
. On 18th January, Spemax Center Ltd., a recovery, logistics and car rental service located in Olomouc in the east of the Czech Republic, conducted break down recovery operations with the help of a Fassi hydraulic crane with an 80 t/m lifting capacity. The accident occurred near Mohelnice, approximately 21 miles (34 km) northeast of Olomouc. (
Courtesy of EverLift Spol. SRO.
)