Tre Iveco Trakker ognuno dotato di una gru Fassi da 55 t/m ad otto sfili, consegnati al Dipartimento dei Servizi Elettrici della municipalità di Città del Capo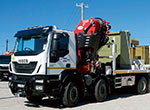 Citta del Capo (Sud Africa) - Maggio 2015. La direzione dei servizi elettrici municipali di Citta del Capo vuole migliorare notevolmente l'efficienza riducendo i costi della manutenzione grazie all'introduzione nella sua flottadi tre nuovi camion. Dopo aver preso in consegna i 3 8x4s Iveco Trakker AD 410T42 Hi-Land, ciascuno dotato di una gru Fassi di 55 t/m con otto estensioni idrauliche, la direzione dei servizi per l'energia elettrica è convinta che la sua efficienza nella manutenzione aumenterà perchè ogni camion può fare il lavoro di tre camion normali. "What would have required the efforts of two or three trucks for a single project previously will now be done much faster,"says the City's mayoral committee member for utility services, councillor Ernest Sonnenberg."The new trucks mean less fuel. The vehicles will primarily be used for maintenance on electricity services infrastructure such as installations, the removal and relocation of network assets such as transformers, mini-subs and ring main units.
Per gentile concessione di 600CT - Adrian Conradie.
Maggiori dettagli:
www.eiegroup.co.za