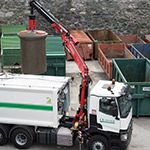 Cranab loaders and Marrel hooklifts take center stage at Ecomondo 2018 together with Fassi
Three Cranab loaders and two Marrel hooklifts, including three new models for 2018, will be the centre of attention at the stand of Fassi group at the 22nd edition of Ecomondo, the Green & Circular Economy trade fair at Rimini Fiera.
Italy is a leader in Europe for Green & Circular Economy, with regards to energy efficiency, recycling waste and productivity of resources, with 47 million tonnes of refuse recycled, consequently saving the equivalent of 17 million tonnes of petroleum in energy. This is also why Ecomondo is an important international event, as it is an opportunity to meet with all the leading companies in the market and with sector professionals.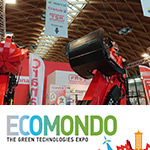 Fassi Gru returns to the world of ecological recycling by participating in Ecomondo
Fassi Gru will be present at Ecomondo Rimini from 7 to 10 November 2017. An important return to the world of ecology for the Italian company with the presentation of a Fassi knuckle-boom crane, a Cranab crane specifically for the recycling sector, and two Marrel roll-off hooklifts. An important return after twenty years of absence. In fact, after having interrupted the production of loaders for the recycling of ferrous materials in 1993, Fassi Gru is returning to the world of ecology with its products resulting from partnerships with world-famous brands such as Cranab and Marrel.