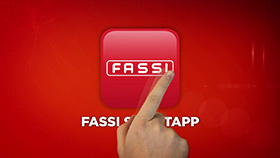 Be smart. Now your crane interacts at a single touch.
Fassi is the first company in the hoisting sector to combine the intelligent use of boom cranes with the use of the latest-generation smartphones. Fassi SmartApp is a veritable integrated system for real-time data collection and reading, capable of carrying out remote diagnostics of crane operation. A must-have system to take full advantage of the capabilities offered by your crane that allows you to prevent improper operation from reoccurring and optimise the crane maintenance schedule thanks to the utilisation statistics.
---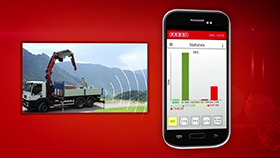 Analyse, set, adjust. Now your crane offers you more personalised use.
The Radio Remote Control section clearly and instantly displays the reaction thresholds of the radio remote control levers used with your crane. By adjusting the response of these control levers, you can set the movement of the main machine booms (Main, secondary, Jib, winch). To do this, the working curves of the individual crane components are immediately set: just enter a few pieces of data and the machine is ready to carry out your commands, under your total control.
---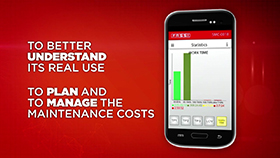 Knowledge is power. Now you can use your crane in the best way possible.
Having more information means improving crane use so that you can obtain the best performances for a longer time period, and also leads to savings. Quickly analysing and evaluating crane operation statistics helps you avoid repairs caused by unforeseen overloads of the main joints, and this also allows you to avoid unscheduled maintenance costs. System efficiency is thus maximised: you have more control over operations and are better aware of how the crane behaves during all work phases.
---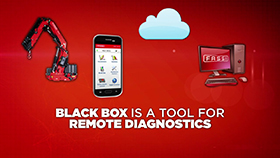 Fassi SmartApp. Black Box: diagnostics at your fingertips. Now you can easily help your crane.
The Black Box does not only store the jobs carried out: it is a bona fide communication tool that can be used to contact the Fassi service network. Fassi SmartApp offers you a remote diagnostics procedure. It saves data and any alarms in a file that you can then send to Fassi's service through your cell phone e-mail* service.
* To send directly through your smartphone, a data transfer subscription with your phone provider is required.
---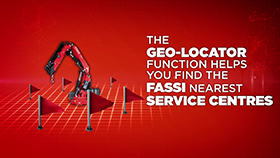 Assistance is always near by. Now your crane leads you to safe hands.
In case the crane suddenly stops working, the "Geo-locator" function helps you find the Fassi service centres nearest to your worksite. Identify the service centre closest to you so that you can save costs during machinery downtime. You can thus easily contact the Fassi service centre which is equipped to read the file stored on the Black Box of your crane and can solve your problems.
---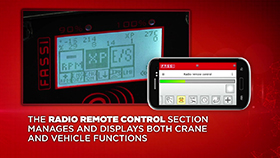 An amazing job. Now you can understand your crane immediately.
Thanks to the user-friendly menu, you have easy and convenient access to the different sections of Fassi SmartApp. With just a few touches, you can go from the collection of operating data, also shown in easy and quick to read graphs, to the section for adjustment of crane controls, which can be set according to your operating preferences. You can also show certain crane functions, such as On/Off, RPM + and -, XP and others still, on the large smartphone display.
---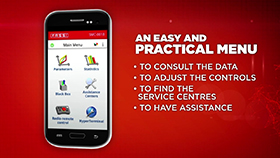 Smart to use with a touch. Now your crane is more and more how you want it to be.
This system comes from the constant push of innovative R&D department Fassi involving with Spin-off of the Electronics and Information department of one of the most important European University. Effectiveness and quick use were the main objectives of the project. Hence, thanks to Fassi's innovative capabilities, a state-of-the-art and completely reliable system was developed capable of taking advantage of the technological opportunities provided by smartphones based on the Android system. A technological frontier full of advantages for you, your work and your investments.
---