Fassi UK Ltd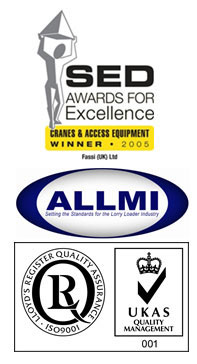 Our Italian parent company, Fassi Gru S.p.A, was formed in 1965 and is one of the world's largest truck loader crane manufacturers, producing over 9500 cranes each year and selling them in five continents.

To meet the growing demand for the product in Britain, Fassi UK Ltd was set up in 1979. Since then the company has grown steadily and is now well established with a national network of approved Main Dealers and Service Points.

As a subsidiary company of Fassi Gru Spa, our sole focus is the sale and support of Fassi cranes, which means that when you work with us you are dealing directly with the factory. Our mission is to satisfy our customers needs & add value to their businesses by providing the best possible product & customer service at a competitive price.

Our regional Main Dealers act as centres of excellence for Fassi UK, offering everything you need under one roof. At our Main Dealers you will find crane sales, technical advice, installation, bodybuilding, spare parts, operator training, service and repairs. Whether you're a truck dealer or an end user, the one-stop shops reduce costs and ensure on-time and on-specification delivery.

Each of our Main Dealers has a long association with Fassi UK and has extensive experience of Fassi cranes. Their wealth of experience means that there's no better place to go for all your Fassi requirements.

Fassi UK Ltd is a founder member and key supporter of the Association of Lorry Loader Manufacturers and Importers. As you would expect, Fassi UK operates to the rigorous requirements of ISO 9001:2008 - which gives you the assurance of the highest standards of quality control & continuous improvement.


Fassi UK Network
view our sale network:
http://www.fassiuk.com/network.html
CRANE SALES
To help you specify the correct Fassi crane for your application our experienced sales team are at your disposal. Working in collaboration with the truck supplier we will provide you with stability and weight calculations to put your mind at ease on all aspects of operational performance and safety.
INSTALLATION & BODYBUILDING
Through our network of Main Dealers and engineering partners we offer a 'one stop shop' solution to crane installation and bodybuilding. The one stop shop approach reduces costs and ensures on-time and on-specification delivery. Each of our partners has a long association with Fassi UK and has an extensive experience of Fassi crane installations.
AFTER-SALES SUPPORT
Local service
With six Main Dealers, 15 approved service points and 80 service engineers, your business is in safe hands with Fassi UK's service and support. We run ongoing service engineer training courses so by choosing to have your crane maintained by one of our Main Dealers or service points you are in the hands of the experts. Together they form a comprehensive national network, offering local support. Wherever you are.
Helpdesk single point of contact
Our telephone helpdesk offers a single point of contact for all Fassi assistance - no being passed from one department to the next. Our helpdesk team log every call for assistance and manage it through to successful conclusion. And out of office hours, we offer an emergency call back facility. Just call 01926 889779. (
www.fassicat.com
)
Preventative Maintenance Contracts
Having your Fassi crane regularly serviced ensures maximum operational reliability and longevity. A preventative maintenance contract is an effective way to budget your service costs. It also gives you the peace of mind that your crane is being maintained at our recommended service intervals (ensuring that your warranty remains in force) and in accordance with PUWER-LOLER regulations. Please click here to download our maintenance contracts brochure for more information.
Spare parts
At our Warwick warehouse we carry fast moving stock for next day delivery. Our Main Dealers also hold key stock items for same day breakdown repair. Finally, for all other items our European parts distribution centre operates at 95% availability on over 16,000 lines for 24-48hr delivery. Please contact our parts team on 01926-889779 from Monday to Friday 9am to 5pm.
To access the Fassi on-line parts catalogue go to www.fassicat.com. Simply enter the crane model and serial number to access the relevant pages for that crane.
OPERATOR TRAINING
We can provide training and certification of your operators to the accepted industry standard, set by ALLMI (Association of Lorry Loader Manufacturers and Importers). This can be carried out on-site or at our Main Dealer's premises.